CRM Software for Kartrocket Users by Kreato
It is very important to align your eCommerce business around your customers. Your customer service, marketing and sales are the face of your business for your customer. You need to have a deep customer insight and personalized engagement plan in order to stand-out from the competition. Equip your marketing, sales and customer service with CRM software to deliver relevant experience at every step of the customer journey. Realizing the need of a CRM software, Kartrocket ties up with a leading CRM software company Kreato, to become the first eCommerce platform to integrate CRM software.
Benefits of Kartrocket integration with Kreato CRM software
1. Synchronize all your contact and order details from your kartrocket portal.
2. Manage, segment, profile your customer data with various filtering & search capabilities.
3. Execute targeted e-mail & SMS marketing campaigns based on your customer profiles and their buying behaviors.
4. Make, record and track all your marketing, sales and support calls through cloud telephony integration.
5. Receive, track and resolve all your customer trouble tickets.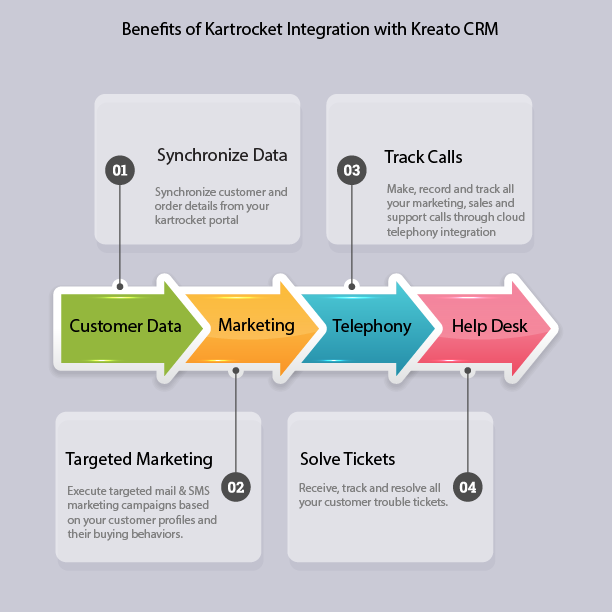 How easily Kartrocket merchants can integrate their Kartrocket portal with Kreato CRM software?
Integrating your Kartrocket store with Kreato CRM is very easy. It is a 5 mins process, Please follow the steps below:
Signup and create a trial account with Kreato CRM (https://register.kreatocrm.com/KartRocketCustomer)
Login to their Kreato CRM portal and activate the Kartrocket app.
Configure their Kartrocket portal URL and API Key at their Kreato CRM portal.
Pricing Model
Kreato CRM software subscription is priced Rs. 400/month/user for Kartrocket users. (Minimum of 3 user subscriptions required.)